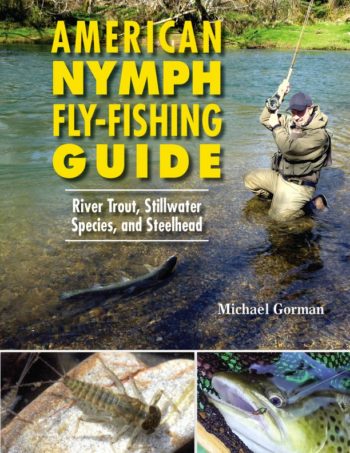 American Nymph Fly-Fishing Guide
River Trout, Stillwater Species, and Steelhead

Of the three general fly fishing methods — wet fly, dry fly, nymphing — nymph fishing is consistently the most effective for more and bigger fish, whether in rivers or lakes, trout, char, and steelhead.  Michael Gorman walks you through the essentials, and then adds some graduate course insights, too.
Here's what publisher Frank Amato had to say about two of his personal angling experiences with author Michael Gorman (these remarks can be found on the book cover) :
"RESULTS!  The first day I fished with Michael Gorman he hooked 10 winter steelhead while nymphing, I got 3 swinging.  On our first trout lake trip Michael released 20-plus trout to 20 inches, I released 10 using the techniques and fly patterns in this book.  Guide Michael Gorman is a master nymph angler, and with his innovative techniques and flies you too can become an effective fly-angler . . . "
From Vaughn Ikemura, Pasadena, CA:
"Read American Nymph Fly-Fishing Guide . . . I have almost all the stillwater books — but this one is absolutely special and inspiring . . .  M. Gorman's book at $29.95 is worth ten times more . . .  His special techniques on leaders and lines I've seem before but never the great detail of effort . . . I can't wait to hit the water.  I feel for once that I really understand the hard-won techniques . . . "
From Amazon purchaser chargejung:
"All of Gorman's books are outstanding and this (American Nymph Fly-Fishing Guide) is perhaps his best. Clear and entertaining writing. His instruction is based on long experience."
To purchase a signed copy of American Nymph Fly-Fishing Guide directly from the author with one of his flies included, send a personal or cashier's check, or money order, in the amount of
$29.95 + $4 mailing = $33.95.
Send to:
Michael Gorman
330 NW Autumn Place
Corvallis, OR 97330
To purchase an unsigned copy through AMAZON click on the image below.

Contact info
Michael Gorman
330 NW Autumn Place
Corvallis, OR 97330
cell : 541.207.4000
email: copy and paste—>gorman_flyfishing@hotmail.com<—to prevent spam copy and paste
Please use the word "fishing" somewhere in your subject line
(Visited 262 times, 1 visits today)