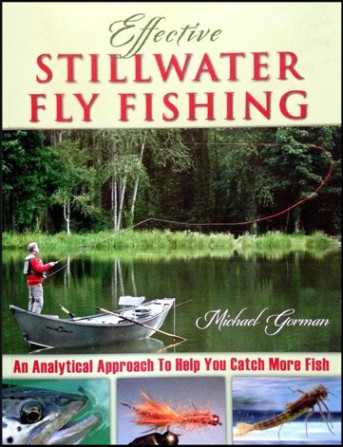 Frustrated? Many fly anglers are discouraged in their attempts to consistently locate and catch fish in lakes and ponds. Effective Stillwater Fly Fishing builds a simple and methodical approach to finding and catching trout and warmwater species in stillwaters.
This book walks you through:
*An effective step-by-step plan to find the fish on any given day
*A simplified but significant understanding of aquatic organisms fish eat, with special emphasis on chironomids
*A listing of all-star stillwater flies  — nymphs, wet flies, dry flies, emergers, and deadly chironomid patterns
*Effective fly fishing methods for fishing various fly types
*Best fly line choices in any given situation, the construction of leaders, and rigging dropper flies
*Researching the best lakes in which to catch more and larger fish
To buy this book now scroll down the page for details.
Testimonials
"This book got me excited about doing more still water fishing. It gave me the techniques and filled in the missing puzzle pieces to become a better still water angler. I believe the book has something from the beginner to the more advanced angler. The photography was great. I will keep this book in my collection to review each season."  Patrick Allen, WA
"Just bought "Effective Stillwater Fly Fishing: An Analytical Approach," brand new from Michael Gorman (30+ year guide and fly fishing teacher at Oregon State University). . . . . and this book has a lot to offer. The photos alone are numerous and first rate, including a multitude of close-ups of flies and actual trout foods. Chironomid entomology, imitation and methods of presentation are thoroughly covered, as are night fishing, "getting over the hump" for non-stillwater guys, and recommended equipment and fly patterns to name a few.  Nicely polished, and certainly makes its own unique contributions to lake fishing. Well done."
Tim Lockart, WashingtonFlyFishing.com
"I am from BC and am super interested in ordering your book (Effective Stillwater Flyfishing).  I don't mind the extra cost, I'm looking for a signed copy as I have become quite a fan of yours.   Also your YouTube videos are extremely helpful and well explained, I can't wait for the next one."
Jaykk Goettling, Prince George, BC
Buy a signed copy of Effective Stillwater Fly Fishing with fly tied by the author included now.
$25 + $4 mailing = $29 total, continental U.S.
To Canada, $25 + $19 mailing = $44 total, Canada

Send your check to:
Michael Gorman
330 NW Autumn Place
Corvallis, OR 97330
Or, buy an unsigned copy now of Effective Stillwater Fly Fishing through Amazon by clicking here or on the book image on the right.

Contact info
Michael Gorman
330 NW Autumn Place
Corvallis, OR 97330
cell : 541.207.4000
email: copy and paste—>gorman_flyfishing@hotmail.com<—to prevent spam copy and paste
Please use the word "fishing" somewhere in your subject line
(Visited 332 times, 1 visits today)