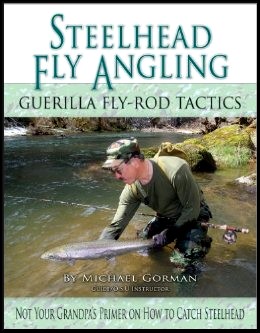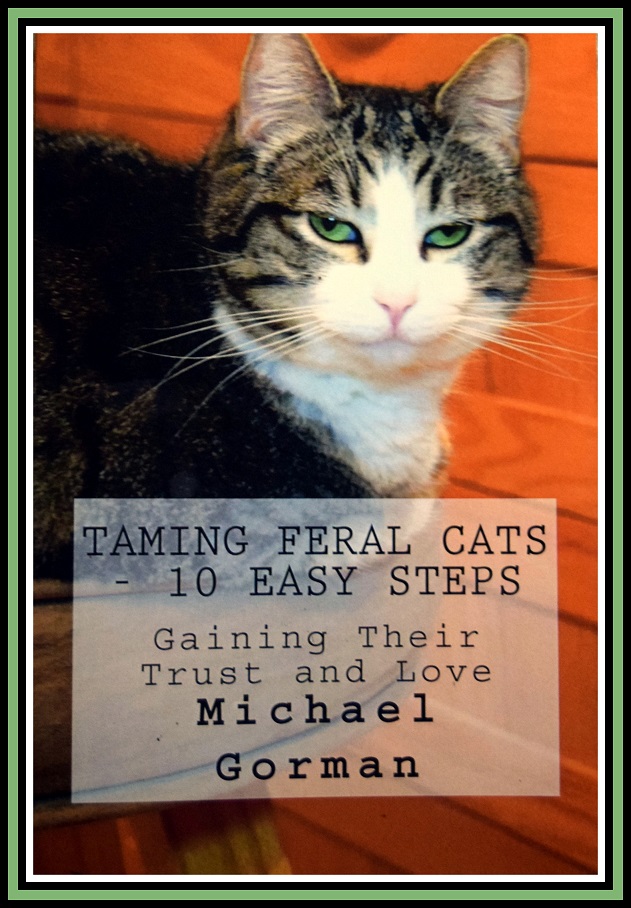 Steelhead Fly Angling


Guerilla Fly Rod Tactics
It took me 7 years (!) to catch my first steelhead by trial & error!  Steelhead Fly Angling, Guerilla Fly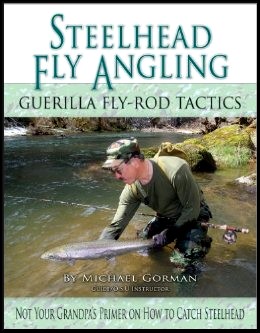 Rod Tactics can save you years and increase your catch rate immediately.  For the last 30+ years I have been a very successful steelhead fly fishing guide, with many satisfied clients fishing with me every year, some for more than 20 years.  Learn from my experience.
You will learn how to
*Read rivers to accurately locate likely steelhead hollding water
*Better understand steelhead behavior in various water conditions throughout the year.
*Select effective flies to catch, including my all-star listings which have accounted for thousands of steelhead for my clients and me.
*Effectively fish my all-star patterns, wet flies, dry flies, nymphs, and egg patterns
*Select effective fishing equipment specifically for steelhead.  Rod length and a high quality fly reel are imperative considerations.
*Construct an effective leader for all situations, especially important when nymphing for steelhead.  And, the best way to incorporate a dropper fly.
*A methodical approach to discover quality steelhead rivers, and the crucial seasonal timing peculiar to these rivers.
Buy this book now by scrolling down the page.
Testimonials
"I've read dozens of books on fly-fishing for steelhead. Almost all of these spend significant time talking about the history and beauty of steelhead angling; countless pages on the evolution of the sport, the flies, the rivers, anglers, etc. Though I enjoy reading all of them, none of them illustrate how to actually go out and catch a steelhead on a fly, in as short of a time as possible. Michael Gorman's "Steelhead Fly Angling: Guerilla Fly-Rod Tactics" does just that. Yes, the steelhead is the fish of a thousand (at least) casts, but Mr. Gorman's book can really help you improve those odds. I consider reading many of these other classics similar to enjoying a fine French dinner; in contrast, "Steelhead Fly Angling: Guerilla Fly-Rod Tactics" is a juicy Big Mac. The book has tremendous photography throughout; this alone makes it worth its price. Mr. Gorman's writing style, humorous anecdotes, and invaluable tips add to the value, making this one of my absolute favorite steelhead fly-fishing books."
Jeff Hilden, HeirloomGear.com
"Steelhead rivers have always been my escape and that is why I was drawn to a book called Steelhead Fly Angling. 'To be successful in any endeavor — love, career, athletics and fishing — you had better have a good plan,' writes Michael Gorman, guide and OSU instructor, in his book. Agreed. A novice steelheader needs to adopt a plan and mindset to find a system. In the first chapters, Gorman identifies the obstacles to success and shows the way through failure to a better understanding of oneself and an ocean-going rainbow trout.
Throughout 184 pages filled with full-color photographs in a large-format book, Gorman examines the nuances of wet-fly and dry-fly swinging for steelhead, as well as nymphing. He goes into deep water to examine our attitudes with tongue-in-cheek sections titled "Shame on You," "Satan Created the Strike Indicator," "Got Religion?" and "Can't We All Just Get Along?"
If you are a fly-fisherman on a quest to catch your first steelhead on a fly, look for this title from Frank Amato Publications. This author, who I have never met, I consider a kindred spirit: somewhat of a steelhead snob with an attitude, a system and an outlook. He ends the book with a note on those he calls cowboys with frozen fingers and rain dripping down their necks.
Giddyup!"   Gary Lewis, The Bend Bulletin
"This book is a fun-to-read technical manual based on the author's 30-plus years of pursuing steelhead. Learn from Gorman's successes and … Steelhead Fly Angling Guerilla Fly-Rod Tactics by Michael Gorman … Catching steelhead consistently requires planning and preparation for all possibilities. This one-of-a-kind book."  Review from Fishermans Marine & Outdoor, Portland/Tigard/Oregon City
Five Stars. "This was a gift and it was well liked by the fly fishing sportsman. Full of information and it makes for a wonderful gift."  Margaret Lee, Amazon purchaser
Buy a signed copy of Steelhead Fly Angling, Guerilla Fly Rod Tactics with fly tied by the author included now.
$30 paperback + $4 mailing = $29 total, continental U.S.
$45 hardcover + $4 mailing = $49 total, continental U.S.
Canada, $19 mailing cost
Send your check to:
Michael Gorman
330 NW Autumn Place
Corvallis, OR 97330
Or, buy an unsigned copy of Steelhead Fly Angling now from Amazon by clicking here, or click on the book image below.

Effective Stillwater Fly Fishing
An Analytical Approach to Help You Catch More Fish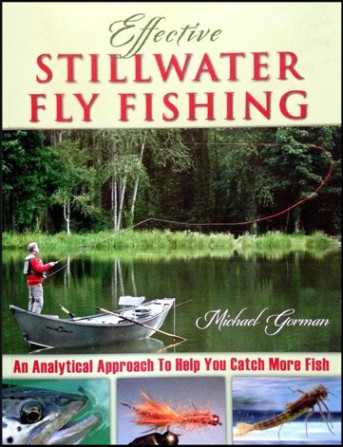 Frustrated? Many fly anglers are discouraged in their attempts to consistently locate and catch fish in lakes and ponds. Effective Stillwater Fly Fishing builds a simple and methodical approach to finding and catching trout and warmwater species in stillwaters.
This book walks you through:
*An effective step-by-step plan to find the fish on any given day
*A simplified but significant understanding of aquatic organisms fish eat, with special emphasis on chironomids
*A listing of all-star stillwater flies  — nymphs, wet flies, dry flies, emergers, and deadly chironomid patterns
*Effective fly fishing methods for fishing various fly types
*Best fly line choices in any given situation, the construction of leaders, and rigging dropper flies
*Researching the best lakes in which to catch more and larger fish
To buy this book now scroll down the page for details.
Testimonials
"This book got me excited about doing more still water fishing. It gave me the techniques and filled in the missing puzzle pieces to become a better still water angler. I believe the book has something from the beginner to the more advanced angler. The photography was great. I will keep this book in my collection to review each season."  Patrick Allen, WA
"Just bought "Effective Stillwater Fly Fishing: An Analytical Approach," brand new from Michael Gorman (30+ year guide and fly fishing teacher at Oregon State University). . . . . and this book has a lot to offer. The photos alone are numerous and first rate, including a multitude of close-ups of flies and actual trout foods. Chironomid entomology, imitation and methods of presentation are thoroughly covered, as are night fishing, "getting over the hump" for non-stillwater guys, and recommended equipment and fly patterns to name a few.  Nicely polished, and certainly makes its own unique contributions to lake fishing. Well done."
Tim Lockart, WashingtonFlyFishing.com
"I am from BC and am super interested in ordering your book (Effective Stillwater Flyfishing).  I don't mind the extra cost, I'm looking for a signed copy as I have become quite a fan of yours.   Also your YouTube videos are extremely helpful and well explained, I can't wait for the next one."
Jaykk Goettling, Prince George, BC
Buy a signed copy of Effective Stillwater Fly Fishing with fly tied by the author included now.
$25 + $4 mailing = $29 total, continental U.S.
To Canada, $25 + $19 mailing = $44 total, Canada

Send your check to:
Michael Gorman
330 NW Autumn Place
Corvallis, OR 97330
Or, buy an unsigned copy now of Effective Stillwater Fly Fishing through Amazon by clicking here or on the book image on the right.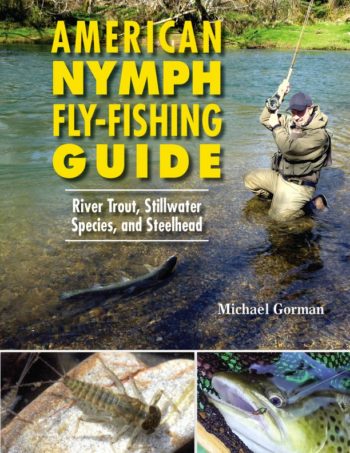 American Nymph Fly-Fishing Guide
River Trout, Stillwater Species, and Steelhead

Of the three general fly fishing methods — wet fly, dry fly, nymphing — nymph fishing is consistently the most effective for more and bigger fish, whether in rivers or lakes, trout, char, and steelhead.  Michael Gorman walks you through the essentials, and then adds some graduate course insights, too.
Here's what publisher Frank Amato had to say about two of his personal angling experiences with author Michael Gorman (these remarks can be found on the book cover) :
"RESULTS!  The first day I fished with Michael Gorman he hooked 10 winter steelhead while nymphing, I got 3 swinging.  On our first trout lake trip Michael released 20-plus trout to 20 inches, I released 10 using the techniques and fly patterns in this book.  Guide Michael Gorman is a master nymph angler, and with his innovative techniques and flies you too can become an effective fly-angler . . . "
From Vaughn Ikemura, Pasadena, CA:
"Read American Nymph Fly-Fishing Guide . . . I have almost all the stillwater books — but this one is absolutely special and inspiring . . .  M. Gorman's book at $29.95 is worth ten times more . . .  His special techniques on leaders and lines I've seem before but never the great detail of effort . . . I can't wait to hit the water.  I feel for once that I really understand the hard-won techniques . . . "
From Amazon purchaser chargejung:
"All of Gorman's books are outstanding and this (American Nymph Fly-Fishing Guide) is perhaps his best. Clear and entertaining writing. His instruction is based on long experience."
To purchase a signed copy of American Nymph Fly-Fishing Guide directly from the author with one of his flies included, send a personal or cashier's check, or money order, in the amount of
$29.95 + $4 mailing = $33.95.
Send to:
Michael Gorman
330 NW Autumn Place
Corvallis, OR 97330
To purchase an unsigned copy through AMAZON click on the image below.

Taming Feral Cats — 10 Easy Steps
All cats need love. Some are reluctant at first to share their lives with a human. Two feral cats chose to adopt me. I have been blessed. Squeaky and Hoover have added immeasurable joy and pleasure to my life. This book is their stories. Perhaps you, too, may be chosen by a sweet feral cat. This is a playbook to bring them into your family.
Below are a few excerpts:                                        To purchase this book from Amazon CLICK HERE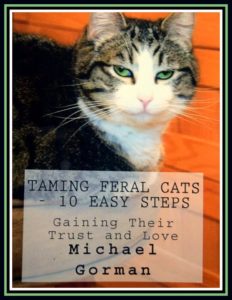 Thank you.
"Feral cats are survivors.  They have learned to find food, shelter, and a safe haven from intruders and predators.  They possess heightened senses and elevated wariness."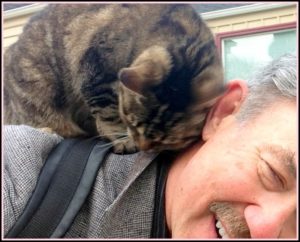 "The single lure which allows me to begin the relationship with my feral friend is food . . .  I place the food and water in a sheltered location . . .  Because survivors use the cover of darkness to stay safe, it's at night that they prefer to come for the food. Unfortunately, raccoons and possums cruise for food at night, too. And, they love cat food."
"When Hoover went missing for a full week in February 2014 with a heavy snow blanketing my part of Oregon, I felt tremendous sadness that circumstances had required I be gone for the weekend immediately after the storm. Fearful she had met the Grim Reaper, I vowed if I found her alive she would become an indoor cat."
"For Squea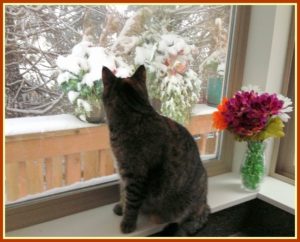 ky I cut one side off a cardboard box, placed a soft garment in it, and located it under my travel trailer. She had comfort, warmth, and safety. I coaxed her into using it by placing her food bowl in the box. As it became a familiar place associated with food, comfort, and safety she was more inclined to linger there after the meal was finished. This had to be much better than a spider-infested dirt bed under a house or junked-out vehicle somewhere."
Taming Step 3:  Be patient. Speak softly and lovingly, using the cat's newly-given name, as you try to get closer to the food bowl at feeding time. The cat will set the tempo of the dance.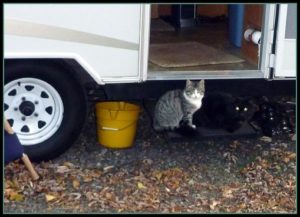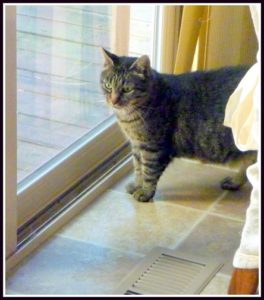 "It started by leaving my sliding deck door open.  Instead of placing Hoover's food outside on the deck, I placed it just inside the door.  If she wanted to eat, Hoover had to come a short distance into the house. . . .  Once she had eaten, her curiosity took over.  Hoovo wandered around the dining and living rooms.   The door was left open so she was free to retreat when it suited her."
"It is my theory that the ability to store fat to a greater degree than the average feline allowed both cats to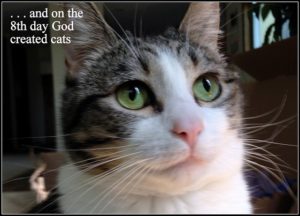 survive the lean or foodless times when others perished.  Squeaky, no doubt, had litter mates.  A typical litter of kittens numbers four or five.  As far as I know, she was the only remaining survivor when she found me." 
"I'm always curious to hear proclamations from the pope.  Pope Paul VI, who reigned from 1963 until his death in 1978, once stated "One day again we will see our animals in the eternity of Christ."  Right on!  Surely the pope knows.  He's the pope!"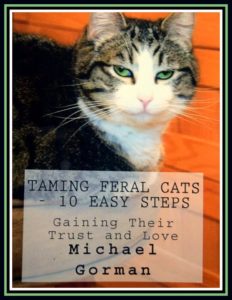 If this sounds like a fun read (It is!), you can order a Kindle (or any other device) download from Amazon, or order a paperback copy for your kids or grandkids there, too.  Click HERE or by my name on the book imag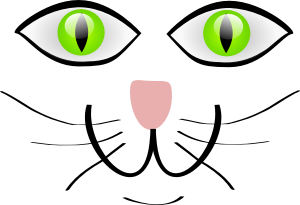 e on the the left to go to Amazon.
<——— Click on my name  😉
Contact info
Michael Gorman
330 NW Autumn Place
Corvallis, OR 97330
cell : 541.207.4000
email: copy and paste—>gorman_flyfishing@hotmail.com<—to prevent spam copy and paste
Please use the word "fishing" somewhere in your subject line
(Visited 20 times, 1 visits today)