Steelhead Fly Angling, Guerilla Fly Rod Tactics
by Michael Gorman
It took me 7 years (!) to catch my first steelhead by trial & error!  Steelhead Fly Angling, Guerilla Fly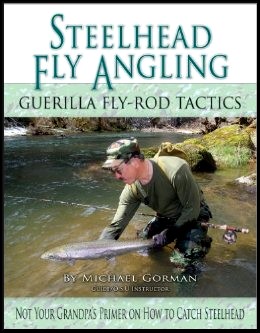 Rod Tactics can save you years and increase your catch rate immediately.  For the last 30+ years I have been a very successful steelhead fly fishing guide, with many satisfied clients fishing with me every year, some for more than 20 years.  Learn from my experience.
You will learn how to
*Read rivers to accurately locate likely steelhead hollding water
*Better understand steelhead behavior in various water conditions throughout the year.
*Select effective flies to catch, including my all-star listings which have accounted for thousands of steelhead for my clients and me.
*Effectively fish my all-star patterns, wet flies, dry flies, nymphs, and egg patterns
*Select effective fishing equipment specifically for steelhead.  Rod length and a high quality fly reel are imperative considerations.
*Construct an effective leader for all situations, especially important when nymphing for steelhead.  And, the best way to incorporate a dropper fly.
*A methodical approach to discover quality steelhead rivers, and the crucial seasonal timing peculiar to these rivers.
Buy this book now by scrolling down the page.
Testimonials
"I've read dozens of books on fly-fishing for steelhead. Almost all of these spend significant time talking about the history and beauty of steelhead angling; countless pages on the evolution of the sport, the flies, the rivers, anglers, etc. Though I enjoy reading all of them, none of them illustrate how to actually go out and catch a steelhead on a fly, in as short of a time as possible. Michael Gorman's "Steelhead Fly Angling: Guerilla Fly-Rod Tactics" does just that. Yes, the steelhead is the fish of a thousand (at least) casts, but Mr. Gorman's book can really help you improve those odds. I consider reading many of these other classics similar to enjoying a fine French dinner; in contrast, "Steelhead Fly Angling: Guerilla Fly-Rod Tactics" is a juicy Big Mac. The book has tremendous photography throughout; this alone makes it worth its price. Mr. Gorman's writing style, humorous anecdotes, and invaluable tips add to the value, making this one of my absolute favorite steelhead fly-fishing books."
Jeff Hilden, HeirloomGear.com
"Steelhead rivers have always been my escape and that is why I was drawn to a book called Steelhead Fly Angling. 'To be successful in any endeavor — love, career, athletics and fishing — you had better have a good plan,' writes Michael Gorman, guide and OSU instructor, in his book. Agreed. A novice steelheader needs to adopt a plan and mindset to find a system. In the first chapters, Gorman identifies the obstacles to success and shows the way through failure to a better understanding of oneself and an ocean-going rainbow trout.
Throughout 184 pages filled with full-color photographs in a large-format book, Gorman examines the nuances of wet-fly and dry-fly swinging for steelhead, as well as nymphing. He goes into deep water to examine our attitudes with tongue-in-cheek sections titled "Shame on You," "Satan Created the Strike Indicator," "Got Religion?" and "Can't We All Just Get Along?"
If you are a fly-fisherman on a quest to catch your first steelhead on a fly, look for this title from Frank Amato Publications. This author, who I have never met, I consider a kindred spirit: somewhat of a steelhead snob with an attitude, a system and an outlook. He ends the book with a note on those he calls cowboys with frozen fingers and rain dripping down their necks.
Giddyup!"   Gary Lewis, The Bend Bulletin
Five Stars. "This was a gift and it was well liked by the fly fishing sportsman. Full of information and it makes for a wonderful gift."  Margaret Lee, Amazon purchaser
Buy a signed copy of Steelhead Fly Angling, Guerilla Fly Rod Tactics with fly tied by the author included now.
$30 paperback + $4 mailing = $29 total, continental U.S.
$45 hardcover + $4 mailing = $49 total, continental U.S.
Canada, $19 mailing cost
Send your check to:
Michael Gorman
330 NW Autumn Place
Corvallis, OR 97330
Or, buy an unsigned copy of Steelhead Fly Angling now from Amazon by clicking here, or click on the book image below.

Contact info
Michael Gorman
330 NW Autumn Place
Corvallis, OR 97330
cell : 541.207.4000
email: copy and paste—>gorman_flyfishing@hotmail.com<—to prevent spam copy and paste
Please use the word "fishing" somewhere in your subject line
(Visited 977 times, 1 visits today)